Now Reading:
Isolated in EU, Poland seeks better ties with Germany behind the scenes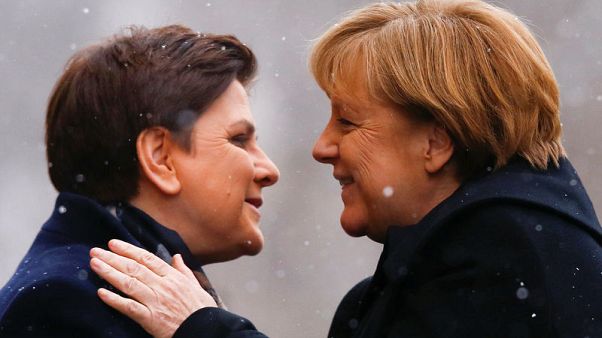 Isolated in EU, Poland seeks better ties with Germany behind the scenes
By Lidia Kelly and Andreas Rinke WARSAW – When two dark cars drove up to the retreat of German Chancellor Angela Merkel in a baroque castle on a sunny afternoon last July, only a handful of people knew they were bringing Poland's top politician, Jaroslaw Kaczynski. So awkward are relations with Berlin for the rightwing Polish leader that the public was not told of the meeting for seven months. Kaczynski finally revealed it in February, saying only that it had been "very secretive". While Merkel has hosted many politicians at the Meseberg castle 65 km (40 miles) north of Berlin, such a clandestine visit had never taken place in her 11 years in office, a German source present at the meeting told Reuters. Supporters of Kaczynski's ruling Law and Justice party (PiS) were far from thrilled. "Poles and Germans as brothers? I really hope Mr Kaczynski will not allow for that, otherwise he will lose my trust," said Wanda Lewandowska, a 74-year-old retiree and PiS supporter, who said the Nazis killed some of her family members during the war. In public, Kaczynski has been no friend of the German chancellor. He once said Merkel wants "first of all, a subordination" of Poland. But the PiS, which Kaczynski chairs, was anxious to mend its ties with Germany, feeling increasingly isolated in Europe. The secret talks with Merkel were held two weeks after Britain had voted to leave the EU, depriving Warsaw of its main ally among the big countries in the bloc. Officials now say the meeting lasted several hours, with the two taking a long stroll through the castle's gardens before sitting down to a dinner with German and Italian wine. Kaczynski gave Merkel a painting of the house where her mother was born in a town that became Polish territory after World War Two. The chancellor gave him a bottle of wine. Since Kaczynski revealed the meeting, relations in public have only deteriorated again, culminating last month when EU leaders voted unanimously to re-elect former Polish Prime Minister Donald Tusk as the chairman of EU summits. Tusk's party is the main domestic rival to Kaczynski's PiS in Poland, and a furious Kaczynski blamed Berlin for helping his foe. German pressure, he said, was "overpowering". Nevertheless, Polish government sources say Warsaw has a better relationship in private with its neighbour and biggest trading partner than it appears in public. Sometimes, it keeps the friendship quiet to avoid angering its own rightwing voters. "We are working on better ties with Germany, but we have to tightly control what becomes public information and what doesn't," a government source familiar with Poland's foreign policy, told Reuters. "It is a difficult task." German officials also brush off the public criticism as the hazard of occupying the leading role in the bloc. "As the strongest in EU we have to … learn not to always react. Because it makes it worse," a German minister told Reuters.
MUCH
TO
DISCUSS
The two countries have a lot to talk about. EU countries accuse Kaczynski's PiS of veering away from democracy by asserting control over the courts and the media. Poland wants to see EU treaties changed to return more powers to member states, an aim in which it once counted on Britain as its most influential ally. The burden of navigating the relationship lies chiefly on Prime Minister Beata Szydlo, a supporter of better ties with Germany but loyal to her party's leader Kaczynski. On Sunday, she and Merkel will discuss bilateral relations and the EU after opening a trade fair in Hanover. Many Poles, especially rightwing PiS supporters, are still animated by a visceral hatred of Germans dating to World War Two, although feelings have warmed up since the end of communism when Germany threw its weight behind Polish EU membership. These days half of Poles perceive Germans in a positive way, double the share in 1993, according to pollster
CBOS
. But more than one in five Poles still feels antipathy towards Germans, compared to one in 10 who dislike Poland's southern neighbours the Czechs and the Slovaks. PiS officials regularly invoke Poland's suffering under German occupation during World War Two as a reason why Berlin should never criticise Warsaw. But if there is one big country that frightens Poles more than Germany, it is Russia. Moscow's intervention in Ukraine in 2014 has made Poland an ally of Merkel in seeking EU sanctions against Russia and strong ties with
NATO
and the United States. With Britain leaving the European Union, the relationship is more important than ever, said Nicola von Ondarza, at the Stiftung Wissenschaft und Politik (
SWP
) think-tank. "The Polish government, because of economic and security issues looks very much to closer ties with the EU and especially Germany," she said. "That's much more apparent after the Brexit vote." (Additional reporting by Pawel Sobczak and Justyna Pawlak in Warsaw; writing by Lidia Kelly; editing by Peter Graff)