People of all shapes and sizes gathered outside the Royal Oak pub in Gawthorpe, in Yorkshire, England on Monday (April 17) to carry 50 kilograms of coal 1.1 kilometres uphill for the right to claim the World Coal Carrying Championship title.
Like so many of Britain's quirky contests, this one was forged in the pub. The championship was dreamt up over a pint in 1963 when one man walked into his local pub and remarked to another customer that he looked a little unfit. Somewhat offended, he challenged him to a race carrying a sack of coal and the World Coal Carrying Championships was born.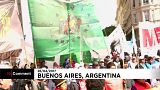 Farmers in Buenos Aires are giving away their produce to people in protest over conditions for small-scale producers.