Yoshihide Muroya of Japan won the second Red Bull Air Race World Championship of his career with a victory in the second round of the 2017 championship series held in San Diego, California, United States on Sunday (16 April).
The 2017 eight-race series opened up in Abu Dhabi, UAE on 10-11 Febrauary with the season finale taking place in Indianapolis, USA on 14-15 October.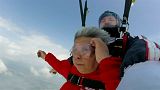 A 70-year-old grandmother has become an internet star in China after she took up skydiving.