Thousands took part in a 5km 'Color Run' along the banks of the Seine in Paris on Sunday (16 April). The race saw thousands of participants dusted in colourful powders before partying in front of the Eiffel Tower.
The Color Run is the largest running series in the world. It has been experienced by over 6 million runners worldwide in over 35 countries.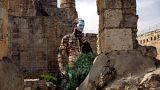 The iconic Tower of David in Jerusalem's Old City is getting a splash of colour.