Trump backtracks, says NATO 'no longer obsolete'
Comments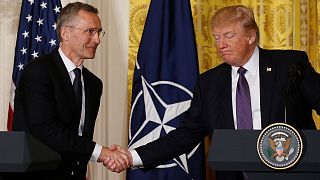 US President Donald Trump has backtracked on his campaign-trail criticism of NATO.
"I said it was obsolete. It's no longer obsolete," he said of the 28-member organisation.
However, he reiterated his push for all nations in the alliance to pay their fair share.
His comments came during a visit to the White House by NATO Secretary-General, Jens Stoltenberg.
Stoltenberg said the meeting between the two had been excellent and productive. Trump appeared to agree.
"The secretary-general and I had a productive discussion about what more NATO can do in the fight against terrorism. I complained about that a long time ago and they made a change, and now they do fight terrorism. I said it was obsolete. It's no longer obsolete. (…) In facing our common challenges we must also ensure that NATO members meet their financial obligations and pay what they owe. Many have not been doing that," said Trump.
He also thanked NATO for supporting his decision to launch 59 cruise missiles at a Syrian air base a week earlier.
Since taking office, Trump has expressed some support for NATO and last month the US Senate overwhelmingly backed allowing Montenegro to join the organisation.
The US is said to have supported the expansion in the hope of sending a message that it will resist Russian efforts to increase its influence across Europe.