Dogs with a sweet tooth can now satisfy their cravings at a Mexico City ice cream shop which serves up frozen treats specifically made for animals.
Shop owner Mauricio Montoya says the puppy ice cream, which he created, is safe for humans, but is especially designed for pets and can even aide in their digestive systems.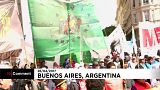 Farmers in Buenos Aires are giving away their produce to people in protest over conditions for small-scale producers.