The official portrait of the new First Lady is out in the US and it is causing quite a buzz on social media sites.
The photograph is now on the official website of the White House along with details about the life of the 46-year-old ex-model who was born in Slovenia.
Official Portrait of First Lady pic.twitter.com/K1DUVE5kSI

— Melania Trump (@FLOTUS) April 3, 2017
It was probably to be expected that people on Twitter would have their own take on the official portrait.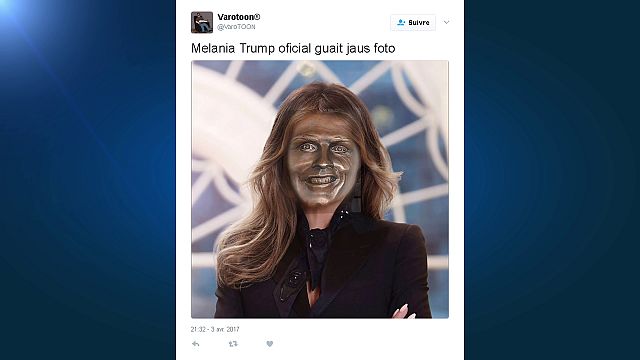 One Tweet mixed the portrait up with a recently unveiled bust of Ronaldo, an image that many said looked nothing like the football legend.
"The new heroine of Netflix," said another.
Melania Trump la nueva heroína de Netflix. pic.twitter.com/bt2YCQE21X

— Adrian. (@dimeArdian) April 4, 2017
Someone else has used a Chinese app to transform the photo.
Melania Trump's new state portrait. #melaniatrump #portrait pic.twitter.com/QvAaZdU4Tn

— Effing Bendo (@EffingBendo) April 4, 2017
Another Tweet, with a skeleton in front of a computer screen, says: "When you've finished photoshopping Melania Trump."
Solhaan</a> Quand t&#39;as fini de retoucher Melania Trump. <a href="https://t.co/zDZKlbh73S">pic.twitter.com/zDZKlbh73S</a></p>&mdash; ℕ𝔼𝕌ℙ𝔸ℙ (TonyLeclet) April 3, 2017
Anyone know why Melania Trump's portrait was taken in front of the Muppet Babies Window? pic.twitter.com/EOLfwfBggE

— Sasha Stewart (@ArtfulStew) April 3, 2017
But there were also positive reactions to the portrait.
White House Releases Official Portrait of First Lady Melania Trump, Strong independent Woman, intelligent,grace/style, Speaks 5 languages pic.twitter.com/4ouJWiSMUd

— Immigrants☆4☆Trump (@immigrant4trump) April 4, 2017
OUTSTANDING. White House Releases Official Portrait of First Lady Melania Trump: https://t.co/BY5Cyd7jmf pic.twitter.com/MYmIA7EbgG

— TruthInGovernment (@TruthinGov2016) April 3, 2017