Hundreds of early visitors at a popular Sofia shopping centre couldn't believe their eyes on Saturday when they saw US President Donald Trump apparently standing next to his Russian counterpart, Vladimir Putin.
The lifelike wax figures are part of a visiting exhibition from the Black Sea town of Varna and took almost six months to create.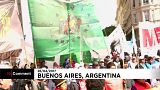 Farmers in Buenos Aires are giving away their produce to people in protest over conditions for small-scale producers.