Thousands of people crowded into Moscow's Pushkin Square on Sunday for an unsanctioned protest against the Russian government.
It was the biggest gathering in a wave of nationwide protests that were the most extensive show of defiance in years.
Alexei Navalny, the anti-corruption campaigner who is leading the opposition to President Vladimir Putin, was arrested while walking from a nearby subway station to the demonstration at Pushkin Square.
State news agency Tass cited Moscow police as saying about 200 people were arrested.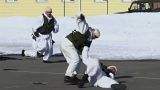 Russian soldiers held military exercises in Murmansk on Tuesday (25 April) in order to highlight the army's readiness to fight in severe weather conditions.