Several dozen "Slackline" enthusiasts gathered for a festival on Saturday set in an old quarry near the Czech town of Beroun.
After anchoring more than seven lines between sand rocks of the quarry, the group enjoyed trying to walk and balance at heights reaching up to 40 metres (around 130 feet), with the lines reaching a maximum length of 110 metres (360 feet).
Lukas Cerny, the festival organiser, said the difference between the level of difficulty of slacklining in parks or slacklining in places such as the one the group was gathering, was "mainly psychological."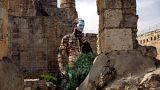 The iconic Tower of David in Jerusalem's Old City is getting a splash of colour.