A vibrantly colourful procession led by children in Guatemala City on Sunday marked the start of a series of solemn and traditional ceremonies in the lead up to Easter.
The children who took part in the procession wore purple and white robes and carried different platforms with the statues of Jesus of Nazareth and the Virgin Mary.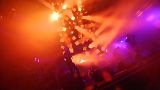 The French city of Lyon's "Nuit Sonores" electronica festival has kicked off for its 15th edition.