Iraqi federal police helped injured civilians advance through the rubble in the train station and through the muddy streets of Mosul on Sunday (19 March).
According to UN figures, 255,000 people have been displaced from Mosul since October 2016, including more than 100,000 since the military campaign in western Mosul began on February 19.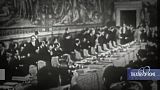 The leaders of Belgium, France, Italy, Luxembourg, the Netherlands and West Germany signing the Treaty of Rome on 25 March 1957.