A Peruvian woman barely escaped with her life from a raging mudslide on Wednesday (March 15) on the outskirts of Lima.
Peruvian television aired dramatic images of 32-year-old Evangelina Chamorro Diaz emerging from the mud, crawling and stumbling over debris dragged along in the incident, which occurred in Punta Hermosa.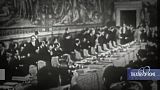 The leaders of Belgium, France, Italy, Luxembourg, the Netherlands and West Germany signing the Treaty of Rome on 25 March 1957.