Members of the campaigning community Avaaz gathered in front of the Dutch parliament on Thursday to celebrate after Prime Minister Mark Rutte's VVD easily won national elections, defying polls that suggested a close race with anti-Islam, anti-EU populist Geert Wilders.
One demonstrator expressed her hope that the results will "show that the rise of populism might end here" and said they represented "hope for Germany and France" as well as the Netherlands.
Both France and Germany have elections this year in which far-right candidates and parties are hoping to make an impact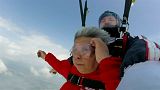 A 70-year-old grandmother has become an internet star in China after she took up skydiving.