A rescued sperm whale, which was trapped in fishing nets in Shenzhen City, south China, is now awaiting further help to be guided back to deeper seas.
The sperm whale was found wrapped in fishing nets by several local fishermen. They first cut the nets that were entangled on its tail and then called the local fishery administration and a nearby voluntary organisation for help.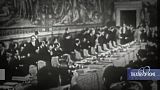 The leaders of Belgium, France, Italy, Luxembourg, the Netherlands and West Germany signing the Treaty of Rome on 25 March 1957.