PSA-GM deal sparks fears for jobs
Comments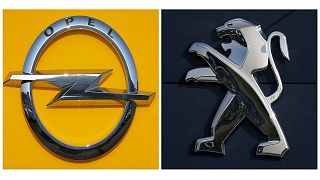 The PSA group has agreed to buy the European unit of General Motors. The deal values the business at 2.2 billion euros.
The aim is to create a new car conglomerate to challenge the market leader, Volkswagen (VW). The deal is expected to be completed in late 2017.
The two carmakers already have an existing European alliance and share some production. They confirmed last month they were negotiating an outright acquisition of Opel and its British brand, Vauxhall by PSA.
"We will totally unleash the full potential of the Opel and Vauxhall brands. We are indeed committed to these two iconic brands and their respective German and British heritage. We trust the talent of Opel and Vauxhall employees and management to accelerate the turnaround," said PSA Chief Executive Officer, Carlos Tavares.
"It is my great privilege to announce that GroupePSA</a> & <a href="https://twitter.com/GM">GM have reached an agreement." – Carlos Tavares #Opelpic.twitter.com/h5LQqEvMa9

— Groupe

PSA

(@GroupePSA) 6 mars 2017
"We are excited to welcome #Opel and create the 2nd largest automotive company in Europe." – Carlos Tavares #PushToPasspic.twitter.com/vejhaKm97P

— Groupe

PSA

(@GroupePSA) 6 mars 2017
Job fears
The news sparked concern over job cuts.
There are 4,500 people employed at the Vauxhall plants at Ellesmere Port and Luton.
Opel employs 19,000 people at its sites in Germany.
UK union boss Len Mcluskey wants guarantees about Vauxhall's long-term future.
Unite's Len McCluskey says the union will fight to make sure #Vauxhall has a future after it was brought by Peugeot https://t.co/hwGoo27FuW

— Sky News (@SkyNews) 6 mars 2017
"What we are going to do is trust the people at #Opel and #Vauxhall, trust their talents." – Carlos Tavares pic.twitter.com/GpONxGpos9

— Groupe

PSA

(@GroupePSA) 6 mars 2017
The details
GM will receive 1.32 billion euros for the Opel manufacturing business, 650 million euros in cash and 670 million in PSA share warrants.
The Paris-based carmaker, along with BNP Paribas, will pay a further 900 million euros for the Opel financing arm. It will be operated as a joint venture, consolidated by the French bank.
The maker of Peugeot and Citroen cars is vowing to return Opel and its British brand, Vauxhall, to profit.
The plan is to have an operating margin of two percent within three years and six percent by 2020. This will be underpinned by 1.7 billion euros in joint cost savings.
Pensions
The transaction also sees GM retain most of Opel's pensions deficit. Analysts estimate this stands at $10 billion. Sources say the US carmaker had sought to offload a larger share of its liabilities.
The companies say some smaller pension funds will be transferred to PSA, along with a three billion euro payment to cover their full settlement. GM will also take an accounting charge of $4 billion to $4.5 billion in relation to the deal.
What this means for GM
Analysts say the sale of Opel seals GM's exit from Europe. The Detroit auto giant has faced investor pressure to offload the business and focus on raising profitability, rather than pursuing global sales success like VW.
"We know that together GroupePSA</a>, <a href="https://twitter.com/hashtag/Opel?src=hash">#Opel</a> and <a href="https://twitter.com/hashtag/Vauxhall?src=hash">#Vauxhall</a> will be in a stronger position." - <a href="https://twitter.com/mtbarra">mtbarrapic.twitter.com/JE7p4NI1Yl

— Groupe

PSA

(@GroupePSA) 6 mars 2017
After fending off merger overtures from Fiat Chrysler in 2015, GM boss Mary Barra agreed to target a 20 percent minimum return on invested capital and pay out more cash to shareholders.
What it means for

PSA
By acquiring Opel, the French group leapfrogs rival Renault to become Europe's second-ranked carmaker by sales. The deal will give it a 16 percent market share to VW's 24 percent.
Last year, PSA and GM Europe recorded 72 billion euros in revenue and 4.3 million vehicle deliveries between them.
What Opel workers are saying – Euronews All Views
Lena Roche from the German language service at Euronews says the 19,000 Opel workers in Germany have been told their jobs are safe until 2018.
"Nonetheless, many Opel workers are worried by the take-over," she adds. "The French company PSA is targeting the same market and builds similar cars, so a direct competitor is taking over."
"Some experts are talking of the worst case scenario and predicting that 8,000 Opel jobs could soon be cut. But others see the new French owners as an opportunity."
"They say that the future with PSA is no less uncertain than with GM. The fact is: Opel is very proud of his history but it has been in the red for the last 17 years."
"They hope to turn this around by 2018, but whether they achieve this remains to be seen."