Protesters faced off with riot police in the Honduran capital of Tegucigalpa on Thursday (March 02) after tempers flared during a demonstration to mark the one year anniversary of the murder of environmental activist Berta Caceres.
Berta Caceres, 43, who fought to stop the construction of hydroelectric plants and mines on indigenous territory, was fatally shot in La Esperanza, Honduras, in March 2016, sparking domestic and international outrage.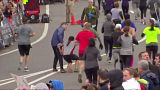 A woman close to collapsing at the end of the Philadelphia Love Run Half Marathon was given a helping hand as she approached the finish line.