Children in Rio de Janeiro took part in the junior Carnival parade competition on Tuesday.
Organisers say the event is an opportunity to engage children in activities and get them off the streets. Many live in the city's shanty towns, or favelas.
Rio de Janeiro's Carnival festivities officially ended on Ash Wednesday.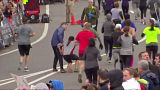 A woman close to collapsing at the end of the Philadelphia Love Run Half Marathon was given a helping hand as she approached the finish line.