Revellers in Germany's carnival strongholds of Cologne and Mainz celebrate Rose Monday, the highlight of the so- called fifth season.
One float has an effigy of Donald Trump with a plaque reading TRUMP-EL-TIER' (a satirical name given to Trump depictions resembling the Trampeltier which is a camel and a creature behaving like a bull in a china shop).
The float with the effigy of the Turkish President has him sitting on a lawnmower, driving over 'Press freedom' and 'Democracy' signs.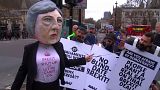 Demonstrators stage a protest outside of the Houses of Parliament ahead of the British PM Theresa May, triggering Brexit with Article 50.