In Syria, US-backed Syrian Democratic Forces (SDF) captured at least three villages in Deir al-Zour and Raqqa provinces on Wednesday as part of their offensive against ISIL.
These videos, posted by the SDF, apparently show the residents of a recently-liberated village celebrating the expulsion of ISIL from their home, by stamping on black clothing, smoking, listening to music, and dancing.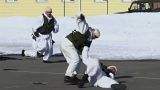 Russian soldiers held military exercises in Murmansk on Tuesday (25 April) in order to highlight the army's readiness to fight in severe weather conditions.