Japan is turning to those hooded samurai-era acrobatic spies known as 'ninja' to woo tourism.
The Japan Ninja Council, a government-backed organisation of scholars, tourism groups and businesses, said on Wednesday that it's starting a Ninja Academy to train people in the art of ninja, and building a new museum in Tokyo devoted to ninja, set to open in 2018.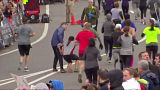 A woman close to collapsing at the end of the Philadelphia Love Run Half Marathon was given a helping hand as she approached the finish line.