Hundreds of people participated in the seventh annual Tomato War in Quillon, Chile on Saturday, 18 February
One hundred tonnes of tomatoes were placed inside a rodeo ring and the participants pitched, threw and smashed tomatoes at each other.
The event was started by a local resident, but in 2013 the municipality took over organisation.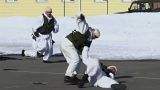 Russian soldiers held military exercises in Murmansk on Tuesday (25 April) in order to highlight the army's readiness to fight in severe weather conditions.