Hundreds of people participated in the seventh annual Tomato War in Quillon, Chile on Saturday, 18 February
One hundred tonnes of tomatoes were placed inside a rodeo ring and the participants pitched, threw and smashed tomatoes at each other.
The event was started by a local resident, but in 2013 the municipality took over organisation.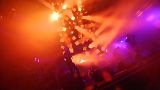 The French city of Lyon's "Nuit Sonores" electronica festival has kicked off for its 15th edition.