Samsung chief Lee is questioned in S. Korea corruption probe
Comments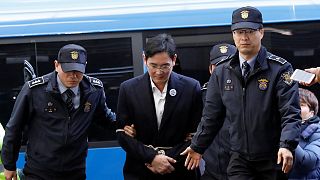 Handcuffed and tied with rope, he arrived for questioning on Saturday after a night in a tiny cell, his bed a mattress on the floor.
It is a far cry from billionaire Samsung boss Jay Y. Lee's mansion in Seoul.
But life has changed dramatically for the third-generation leader of South Korea's electronics giant.
Lee, 48, is being grilled on his alleged role in a corruption scandal that has led to the impeachment of President Park Geun-hye, a decision being reviewed by the country's Constitutional Court.
The special prosecutor's office accuses Lee of bribing a close friend of the president to gain government favours. It has already said it will indict him on charges including bribery, embezzlement, hiding assets overseas and perjury.
Lee and Samsung have denied wrongdoing.
But his incarceration piles pressure on Samsung, still trying to get past the disastrous rollout last year of its Galaxy Note 7 smartphones, which were prone to fires.
Lee may never get to run Samsung after his arrest. But how much does this actually affect the company? https://t.co/Z31nmYvOxppic.twitter.com/2lpxhHlXOc

— Forbes Tech News (@ForbesTech) 17 février 2017
with Reuters