Now Reading:
Dovish Swedish central bank signals no let up in easy money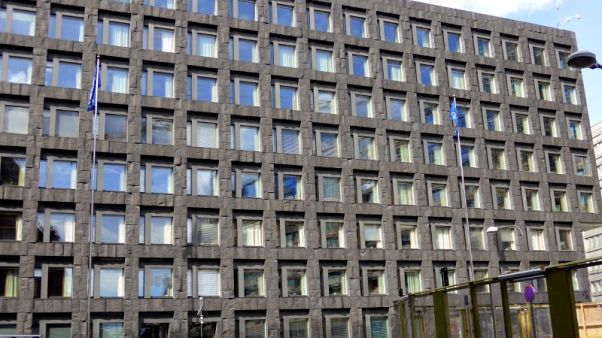 Dovish Swedish central bank signals no let up in easy money
By Johan Ahlander and Simon Johnson STOCKHOLM (Reuters) – Sweden's central bank held rates unchanged at -0.50 percent on Wednesday but retained its view that more cuts could come, surprising markets which had expected it would signal that five years of ever looser policy had come to an end. Negative interest rates and a hefty quantitative easing programme are looking increasingly out of sync with a Swedish economy in high gear. But the Riksbank is worried a global recovery could be tripped up by Brexit, slower growth in Europe and a more protectionist United States. It also knows that signals of tighter policy could lead to a stronger crown currency. The crown weakened from around 9.44 to the euro to 9.46 shortly after the decision. <EURSEK=> "The Riksbank was a little more dovish than expected, on the margin," Knut Hallberg, economist at Swedbank, said. "Today's decision shows the Riksbank will be very cautious in its roll back (of expansive monetary policy)." Many analysts had expected the Riksbank to signal it now saw inflation on firmer ground and that its next move would be to shift toward tighter policy, if very slowly.<SERATE=ECI> After years of undershooting, inflation was nudging the 2 percent target in December, while other domestic data has prompted analysts to forecast economic growth this year near 3 percent – well above trend. < http://bit.ly/2lPlJKy > However, the central bank retained its short term easing bias and the crown currency weakened. <EURSEK=> "The repo rate path reflects the fact that there is still a greater probability that the rate will be cut than that it will be raised in the near term," the Riksbank said in a statement. The central bank renewed a mandate for Governor Ingves to intervene in the currency market should the crown currency strengthen sharply and choke off the recent uptick in inflation. And in what analysts said was a further dovish signal, it adjusted downward its view of the long term normal interest rate. All 18 analysts in a Reuters poll had forecast no change in current policy.
(Reporting by Stockholm Newsroom; Editing by Jeremy Gaunt)