A tourist attraction in Hamburg, Germany that features miniature models of various parts of the world has put up a wall around the United States, in a dig at President Donald Trump's plan to build a full-sized one on the border with Mexico.
The display at 'Miniature Wonderland' is a hit with tourists, including some from the United States, who are usually drawn by its vast model railway.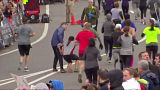 A woman close to collapsing at the end of the Philadelphia Love Run Half Marathon was given a helping hand as she approached the finish line.