Civilians left without power, water amid renewed hostilities in east Ukraine
Comments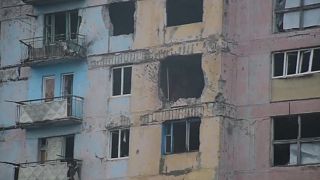 Heavy shelling in Avdiivka in east Ukraine has left thousands of people without electricity, heating and water for days.
Amid an upsurge in fighting with pro-Russian separatists Ukrainian officials are preparing for a possible evacuation of the city. Avdiivka is a key strong-hold for Kyiv close to rebel-held Donetsk.
Both government forces and pro-Russian separatists suffered casualties as fighting escalated in violation of a ceasefire, and each side blames the other for the flare-up in violence.
A peace deal was struck in February 2015, but international monitors report violations on a daily basis.
The latest clashes mark a significant escalation and come after Donald Trump and the Russian president held their first phone call.
Ukraine is concerned that Trump's ties to Moscow may weaken international pressure on Russia over its actions in Ukraine.