A Russian power lifter has managed to pull two tram cars full of passengers.
When empty, each car already weighs 18 tonnes.
The woman, 33, tried to set a new national record in the Siberian city of Irkutsk, in temperatures of minus 20 degrees Celcius.
She had trained for more than six months to take on this challenge.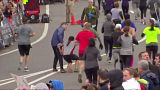 A woman close to collapsing at the end of the Philadelphia Love Run Half Marathon was given a helping hand as she approached the finish line.