Flags are at half-mast in Kyrgyzstan in memory of those killed when a cargo plane crashed earlier in the week.
Four crew members and 34 local residents died when the aircraft came down on a village near the capital, Bishkek.
Officials say the plane was on a stopover from Hong Kong to Istanbul when it crashed in poor visibility.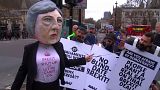 Demonstrators stage a protest outside of the Houses of Parliament ahead of the British PM Theresa May, triggering Brexit with Article 50.