Protesters dressed in Klu Klux Klan robes heckled US lawmakers on Tuesday (January 10) at the start of the Senate Judiciary Committee's confirmation hearing for Senator Jeff Sessions to become the next US Attorney General.
A total of seven confirmation hearings for President-elect Donald Trump's cabinet are expected this week, starting with hearings for Sessions and another for retired General John Kelly, Trump's choice for secretary of homeland security.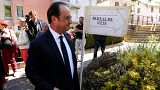 The incumbent Socialist president made the unusual move last year of pledging to not stand for re-election.