North Korea has held its first dedicated sports day of the year in Pyongyang.
Officials were seen running and chanting the slogan 'fatherland unification' in footage provided by the country's state news agency (KCNA).
The footage cannot be independently verified.
According to the South Korean Unification Ministry, North Korea has been marking every second Sunday of each month as a national sports day since 1992.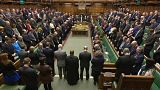 John Bercow, the speaker of the House of Commons, leads the chamber in a tribute to those who died or were injured in the Westminster attack on 22 March.