Cyprus: healing a divided island
Comments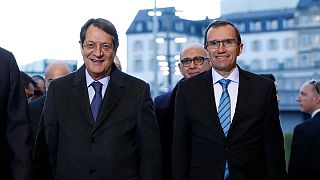 The leaders of ethnically-split Cyprus are meeting in Geneva for a week of intense talks to agree the outline of a peace deal ending decades of division.
Mustafa Akinci, the northern Cypriot leader and President of the Republic of Cyprus Nicos Anastasides will have three full days of discussions in the Swiss city.
#CyprusTalks resumed UNGeneva</a> - <a href="https://twitter.com/UNOG_DG">UNOG_DG & EspenBarthEide</a> welcomed <a href="https://twitter.com/AnastasiadesCY">AnastasiadesCY and MustafaAkinci_1</a> today <a href="https://t.co/ruaYxoPMM1">pic.twitter.com/ruaYxoPMM1</a></p>&mdash; UN Geneva (UNGeneva) January 9, 2017
NOW: Greek Cypriot leader Nicos Anastasiades and Turkish Cypriot leader Mustafa Akinci arrive for #CyprusTalksUNGeneva</a> <a href="https://t.co/lcPJmY51d7">pic.twitter.com/lcPJmY51d7</a></p>&mdash; UN Geneva (UNGeneva) January 9, 2017
#NOW#Cyprus leaders MustafaAkinci_1</a> <a href="https://twitter.com/AnastasiadesCY">AnastasiadesCY pre-meeting in #Geneva under auspices of #UNSASGEspenBarthEide</a>. <a href="https://t.co/GQejhdXegX">pic.twitter.com/GQejhdXegX</a></p>&mdash; UN Cyprus (UN_CYPRUS) January 8, 2017
The context
The Greek and Turkish Cypriot communities have been estranged since 1974.
Turkey invaded the north of the island after a brief, Greek-inspired coup.
However, analysts say the seeds of partition were sown years earlier in the wake of independence from Britain in 1960.
Today, the island of just over one million inhabitants is split.
Turkish Cypriots live in the north and Greek Cypriots in the south, separated by one of the world's longest-established peacekeeping forces.
Sticking points
Power-sharing, redrawing property boundaries and security issues in a future reunited homeland are key sticking points in the negotiations.
They have resulted in logjams in the past.
The troop question
The status of around 30,000 Turkish troops stationed in the north of Cyprus is crucial. The issue is expected to dominate discussions on Thursday.
The Greek side insists they must all be pulled out.
However, the Turkish side says some must remain.
It is impossible to find a solution if Turkish troops and guarantees remain on the island, says Anastasiade #cyprushttps://t.co/3GHdByO9yG

— Cyprus News Agency (@cnainenglish) December 21, 2016
Greece, Turkey and Britain are the three guarantor powers of Cyprus under a 1960 treaty that granted the former colony independence.
Britain maintains two strategically-important bases on the island, which are used in operations against ISIL.
London says it is willing to relinquish around 49% of the 98 square miles it currently holds to facilitate any territorial adjustments.
Separate referendums
Any agreement must be put to separate referendums in the two communities.
Diplomats are anticipating a vote around June.
A previous blueprint for peace, put to a referendum in 2004, was accepted by Turkish Cypriots but rejected by Greek Cypriots.
What they are saying
"An historic opportunity," – new UN Secretary General Antonio Guterres is expected to attend on Thursday.
"Ask me when we are finished," – reporters in Geneva got a guarded reply when they asked Nicos Anastasiades if he is optimistic about the talks.
"We must be cautious. We are not pessimistic, but I see no need for exaggerated expectations that everything will just happen. We are expecting a difficult week," – a cautious Mustafa Akinci said on Sunday.
"If this time it fails between these two pro-solution leaders, then huge motivation will be lost," – Cypriot academic Ahmet Sozen says that with two moderate leaders in place, the conditions are right for talks.