A popular sushi restaurant in Tokyo, Sushizanmai, purchased a 212 kilogram bluefin tuna for 72 million yen (614,016 USD) at Japan's iconic Tsukiji fish market during its first auction of the year on Thursday (January 5).
Kiyoshi Kimura, president of Kiyomura Corp, which owns a chain of sushi restaurants, won the first bid for the sixth consecutive year.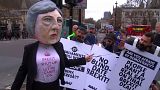 Demonstrators stage a protest outside of the Houses of Parliament ahead of the British PM Theresa May, triggering Brexit with Article 50.