Beijing and other cities across northern and central China were shrouded in thick smog Monday and Tuesday prompting authorities to delay dozens of flights and close highways.
A 12-second time-lapse footage shows the moment when the smog engulfs the city of Beijing in the latest bout of air pollution.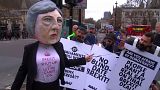 Demonstrators stage a protest outside of the Houses of Parliament ahead of the British PM Theresa May, triggering Brexit with Article 50.