Cologne police: New Year arrests of North Africans 'not racial profiling'
Comments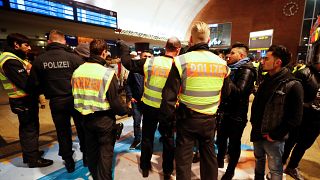 The chief of police in the German city of Cologne has dismissed claims of racial profiling after hundreds of North African men were detained during New Year festivities.
It was clear something was going to happen if we did not intervene promptly

Cologne police chief
The authorities wanted to prevent a repeat of last year's mass sexual assaults.
The police have defended an overnight tweet, which prompted strong criticism that people were detained based on their appearance alone.
At issue was the use of the word "Nafris" – according to police, an internal term to describe young men from North Africa "who have been attracting attention for years for their readiness to use violence and/or to commit criminal offences."
#PolizeiNRW#Silvester2016#SicherInKöln: Hundreds of Nafris screened at main railway station. Details follow. https://t.co/VYMQuT6B7upic.twitter.com/LWrtAXAouq

— Polizei

NRW

K (@polizei_nrw_k) 31 décembre 2016
Cologne's police chief said officers had orders to approach potential trouble makers.
"Regarding the young men from North African countries, who were acting suspiciously, I can tell you they had already been noticed as early as 7pm in the area around the main station. There we noticed people, some of them drunk, who – as it was described to me – were just standing there in groups becoming aggressive. So it was clear that something was going to happen if we did not intervene promptly and decisively," Jürgen Mathies told a news conference.
The police chief added that almost all of hundreds of people detained were from North African countries. About 100 people were held overnight.
At New Year 12 months ago hundreds of women complained of being mugged, harassed and sexually assaulted. An estimated 1,000 men were believed to have been involved, and anger at the failure of police to tackle the problem led to the then chief of police being suspended.
This time, the police say around a dozen sexual assaults were reported.
Anti-immigration groups launched scathing criticisms of the German government after last year's assaults, citing Chancellor Angela Merkel's open door policy to refugees fleeing war.
However subsequent reports revealed that only a handful of those arrested over the mass sex attack were from Iraq and Syria – with the majority being of Algerian, Moroccan or Tunisian descent.
Opinion: 'Nafris' and racial profiling – a tedious debate, by JensThurau</a> <a href="https://t.co/mbFCM465oY">https://t.co/mbFCM465oY</a> <a href="https://t.co/7DVFAcBKRr">pic.twitter.com/7DVFAcBKRr</a></p>&mdash; dwnews (dwnews) January 2, 2017