Out of this world? Astronauts join mannequin challenge craze
Comments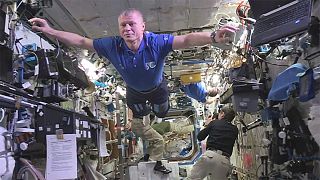 Astronauts have defied gravity to breathe fresh life into the mannequin challenge craze.
The crew currently on the International Space Station (ISS) – a permanently-manned base for space research around 350 kilometres above Earth – took part in the viral video fad.
The footage was posted on Twitter by French astronaut Thomas Pesquet.
The challenge is a viral craze that sees participants imitate mannequins by freezing for the camera.
Like its predecessor, the ice bucket challenge – which saw people having freezing cold water thrown over them – it is thought to have originated in the US. But while the latter raised millions for charity, there is no official fundraising link to the mannequin challenge.
The ISS, which has been manned since 2000, has contributed to knowledge about the effects of spaceflight on the human body, dark matter and microgravity.