After a resident of the central Peruvian coastal city of Chimbote got drunk and hit his head, he needed an ambulance to take him to the area hospital.
But a funny thing happened on the way to the trauma room; his two dogs decided to accompany and help their owner, and insisted on taking the ambulance with him.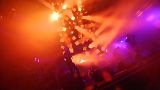 The French city of Lyon's "Nuit Sonores" electronica festival has kicked off for its 15th edition.