Berlin's Jewish community pays tribute to lorry attack victims
Comments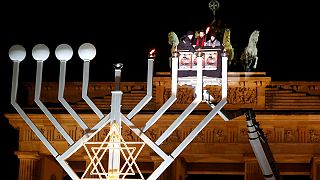 The son of an Israeli woman who was killed in last week's deadly lorry attack in Berlin has lit a giant menorah at the city's Brandenburg Gate during a ceremony to remember victims.
Or Elyakim's mother Dalia, was among the 12 people who died. His father was also badly injured.
During the tribute senior leaders from Berlin's Jewish community called for unity. Rabbi Yehuda Teichtal said. "This attack was not only against Berlin or Germany, Jews, Christians or Muslims, it was an attack against all of us, against people who respect democracy, peace and liberty, who are against darkness," Rabbi Yehuda Teichtal said.
The ceremony was held on the fourth night of Hanukkah, the Jewish Festival of Lights.
The eight-night celebration commemorates the re-dedication of the Temple in Jerusalem in the second century BC after its desecration by a pagan ruler.