Alpine skiing: Jansrud continues perfect super-G start with Santa Caterina win
Comments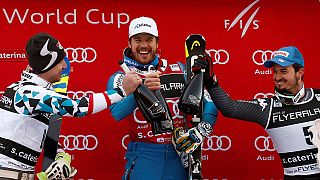 There have been three men's super-G races so far this World Cup season and Norwegian star Kjetil Jansrud has now won them all.
His latest triumph in the speed event was at the Italian resort of Santa Caterina on Tuesday.
The 31-year old, who won the 2015 super-G title, was half a second quicker than anyone else at the second intermediate and he continued to stretch that lead all the way to the finish line.
With his victory Jansrud became only the second man to win the first three super-G races of the season after Austrian great Hermann Maier.
An 18th career World Cup success saw Jansrud close the gap to 151 points on defending overall World Cup champion Marcel Hirscher in the general standings, while he is sitting pretty at the top of the discipline standings with a perfect 300 points.
Hirscher finished the race 47th and picked up no points.
Defending super-G world champion Hannes Reichelt was second on the day.
The 36-year-old Austrian has suffered a sluggish start to the super-G season with a 9th and 17th place finish in the opening two events.
But he improved dramatically in Santa Caterina to cross over 0.60 seconds back and celebrate his first podium placing this campaign.
Dominik Paris rounded out the podium in third place for the second time this season.
The Italian, who was 0.65 seconds off the pace, remains second in the discipline standings but is now 148 points behind the on-form, three-for-three Jansrud.
The men stay in Santa Caterina for a downhill and combined which take place on Wednesday and Thursday, respectively.
Today's SuperG winner! :) Kjansrud</a> <a href="https://twitter.com/hashtag/worldcupsantacaterina?src=hash">#worldcupsantacaterina</a> <a href="https://twitter.com/hashtag/pureadrenaline?src=hash">#pureadrenaline</a> <a href="https://twitter.com/hashtag/santarocks?src=hash">#santarocks</a> <a href="https://twitter.com/hashtag/fisalpine?src=hash">#fisalpine</a> <a href="https://twitter.com/hashtag/attackingvikings?src=hash">#attackingvikings</a> <a href="https://t.co/qnq9V6m0Yz">pic.twitter.com/qnq9V6m0Yz</a></p>&mdash; S. Caterina Ski WC (SantaCaterinaDH) December 27, 2016
These guys claimed the Super-G podium at SantaCaterinaDH</a>.<br>Congrats <a href="https://twitter.com/Kjansrud">kjansrud, hannesreichelt</a> (+0.60) & <a href="https://twitter.com/DominikParis">dominikparis (+0.65) pic.twitter.com/kEabmY08nD

—

FIS

Alpine (@fisalpine) December 27, 2016