In August 2011, pop superstar George Michael performed at Prague's State Opera House with a nine-piece band and the Czech National Symphony Orchestra.
The former Wham! star died at his home in Oxfordshire, England on Christmas Day. British police said Michael's death was "unexplained but not suspicious."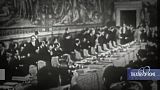 The leaders of Belgium, France, Italy, Luxembourg, the Netherlands and West Germany signing the Treaty of Rome on 25 March 1957.