Berlin attack: survivors recount horror as more details of the victims emerge
Comments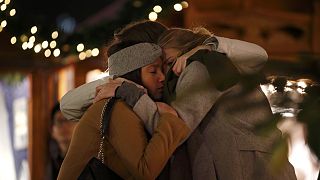 Two Italian survivors of the Berlin truck attack have recounted the horror they felt the moment a lorry mowed through crowds of people at the Breitscheidplatz Christmas market in the German capital.
"I have some flashbacks and some noise in my ears. I found myself thrown on the ground because I was hit by the truck. I could not see anything but that was because of the blood coming from the wound on my forehead. Then I turned around to look for my wife and I found her in front of me," said survivor Giuseppe Lagrassa.
His wife Elisabetta Lagrassa said: ''I found him in the corner, I helped him up and then we left fearing that there could be explosive material in the truck. We understood right away that it was an attack."
Meanwhile, further details of other victims and those killed in Berlin on Monday continue to emerge. According to national media, six of the dead were German.
While three people have still to be officially identified, it has now been confirmed that missing Israeli woman Daliya Elyakim died in the attack. Her husband Rami is fighting for his life.
Earlier, Italy's foreign ministry revealed that 31-year-old Italian woman Fabrizia di Lorenzo, who was initially unaccounted for, was also killed in the terrorist strike.
Lukasz Urban, the 37-year-old Polish lorry driver, whose truck was used to carry out the deadly attack, was found dead in the cab of the vehicle with gunshot and stab wounds.