Airbus seals deal to sell 100 aircraft to Iran
Comments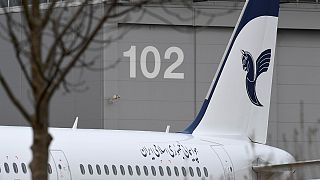 Airbus has signed a firm agreement on the sale of 100 aircraft to Iran Air, almost a year after international sanctions on Iran were lifted.
The aircraft, the first of which may be delivered as soon as January, will not include any A380s – which had been part of an earlier planned agreement.
We have sealed an historic order with #IranAir for 100 jets: 46 #A320 Family, 38 #A330 Family & 16 #A350 aircraft https://t.co/xQrX16UXhxpic.twitter.com/DL0EeS3BR0

— Airbus (@Airbus) December 22, 2016
The head of Iran Air was quoted on Sunday as saying the value of the contract would not be more than $10 billion.
The deal is part of plans to renew Iran Air's ageing fleet.
But the airline's agreement with Airbus – and another with Boeing – have only been finalised in the last weeks of the year. There have been months regulatory delays following the lifting of sanctions in January 2016.
Test flights prior to delivery… Just #beautiful! #Airbus#IranAir#A321#aviation#airplanepic.twitter.com/rpuKBoKrtU

— Iran Air (@IranAir_IRI) December 21, 2016
The end of the sanctions came after Iran and a group of world powers agreed a framework deal over Tehran's nuclear programme. But US President-elect Donald Trump has criticised that deal and raised the prospect of US withdrawal from the pact.