Scores of arrests in Venezuela in chaos over banknote withdrawal
Comments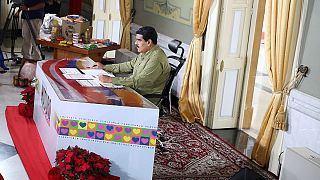 Venezuelan President Nicolas Maduro has announced that 300 people have been arrested during protests and looting over the elimination of the country's largest currency bill.
The detainees include leaders and members of the opposition Popular Will and Justice First parties, Maduro said on state TV, accusing them of following US instructions to incite chaos.
Venezuela trying to roll back disastrous cash gambit, but riots continue. Hundreds of arrests so far, and one death https://t.co/hXCNaijeDP

— Hannah Dreier (@hannahdreier) December 18, 2016
There has been economic turmoil since the leader withdrew the 100-bolivar banknote last week before new bills were brought into circulation. Anger erupted in reaction to a national cash shortage on top of the country's current economic crisis.
Maduro has since said he will delay the withdrawal of the note until January 2
The government had said the scrapping of the 100-bolivar note was necessary to prevent smuggling and to tackle gangs which hoard Venezuelan currency abroad.