Syria: Assad celebrates 'history' as Aleppo is 'liberated'
Comments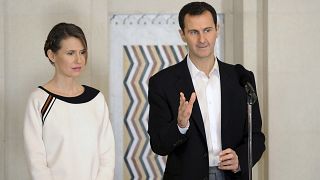 Until very recently parts of eastern Aleppo had been controlled by rebels – despite the pounding from government forces and their Russian allies.
Now the Syrian flag is flying again, marking an end of years of fighting for the city.
It's not the end of the country's civil war – but it's a triumph for its president who not so long ago was being written off.
Bashar al-Assad recorded a video message on Thursday saying:
"After liberating Aleppo we can say not only the Syrian situation, but also the regional and international situation is different. Here time became history. Aleppo converted time into history."
Residents in Aleppo have been seen waiting to return to their homes. For months the area had been bombarded by pro-government forces. Rebels in some districts have also been accused of atrocities and ill-treatment of civilians.
"We are waiting for the rats to get out from inside there and to go to hell, and to get back to our homes," said one man.
"We want to get back to our houses which we left four years ago," another added.
Meanwhile Syrian state TV broadcast pictures showing what it said were people celebrating the military success in Aleppo, chanting as they held posters of Assad and waving Syrian flags.
The images were reportedly filmed on Monday.
Although rebel-held eastern Aleppo has been destroyed by the war, life in some parts of government-controlled areas in the west of the city has been relatively normal.