The waxwork figures of the Royal family were festively decorated with kitsch Christmas jumpers at Madame Tussauds London on Tuesday (December 6) to help raise awareness of children's charity appeal, Save the Children.
The annual Christmas Jumper Day campaign encourages people to wear their festive jumpers on December 16 and donate £2 (2.35 euros) to Save the Children.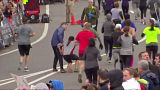 A woman close to collapsing at the end of the Philadelphia Love Run Half Marathon was given a helping hand as she approached the finish line.