Draped in the red, white and blue national flag, Fidel Castro's ashes were borne through Havana on Wednesday (November 30), at the start of an island-crossing trek to his final resting place in eastern Cuba, where the first shots in the Cuban Revolution were fired.
Castro, who ruled Cuba for half a century until 2008 and built his Cuban Revolution on the doorstep of the United States, died on Friday aged 90, plunging the Caribbean nation into nine days of mourning.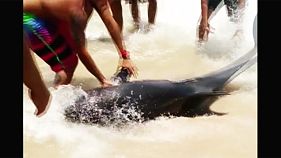 A group of man splash water on a dolphin after it became beached on Itacoatiara beach in Niteroi.