A dog at a German zoo is helping to rear twin Bengal tiger cubs which were abandoned by their mother soon after birth, Safaripark Stukenbrock in northern Germany said on Monday.
One-month-old Peach and Pearl, born over the course of about an hour, were immediately rejected by their mother, said keeper Jeannette Wurms.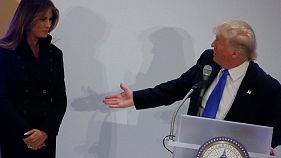 Trump called his wife to speak at the luncheon honouring his supporters on the eve of his swearing in as the 45th U.