Stalemate in final of World Chess Championships forces rare tie-breaker
Comments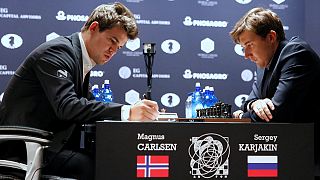 For only the third time in the history of the competition a tiebreaker will be needed to decide the World Chess Championships.
The final in New York pitted 25-year-old defending champion Magnus Carlsen from Norway against 26-year-old Russia Sergey Karjakin.
The pair entered the 12th and what should have been the final match of the series finely balanced at 5.5 points each.
But for the tenth time of this contest it ended in a draw leaving both players on six points apiece.
The anticlimactic ending to the championship match-up was over after only 30 moves and 35 minutes.
The tie-breaker will take place on Wednesday with a series of four rapid games.