Hundreds of Mexican mariachis celebrated on Tuesday the day of the patron saint of music, Saint Cecilia.
Mariachi is a type of musical group originally from the city of Guadalajara and usually consists of at least two violins, two trumpets and three guitars.
According to Catholic tradition, Saint Cecilia sang to God as she was being beheaded.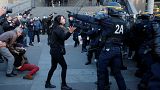 Tensions were running high on Paris' Bastille Square on Sunday night (April 23), at the end of a protest called by left wing militants.