Trump endorses Farage for UK ambassador to US, saying he would do ''a great job''
Comments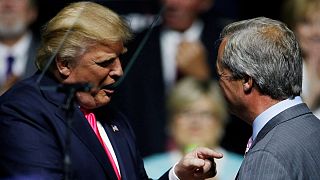 In what is being seen as an unprecedented move, Donald Trump has suggested Nigel Farage should become Britain's next ambassador to the US.
The UKIP interim leader helped the President-elect during his election campaign and was the first British politician to meet the billionaire after his shock victory.
In a late-night tweet, Trump said he would do ''a great job''.
Many people would like to see Nigel_Farage</a> represent Great Britain as their Ambassador to the United States. He would do a great job!</p>&mdash; Donald J. Trump (realDonaldTrump) November 22, 2016
Farage has said he is flattered and wanted to help US and UK relations, though last week admitted to Sky News that diplomacy wasn't one of his strongest skills.
''I don't think I am the ambassadorial type, I mean, whatever talents or flaws I have got, I am not sure diplomacy is necessarily at the top of my list of skills.''
Downing Street has already rejected Trump's suggestion, saying ''there is no vacancy'' open and backed current ambassador Sir Kim Darroch, who only started his job in January.
But, the president-elect's endorsement and major breach of diplomatic protocol is being seen as a fresh embarrassment for Britain's Prime Minister Theresa May.