From South Sudan to Uganda: "I don't know whether my husband is dead or alive"
Comments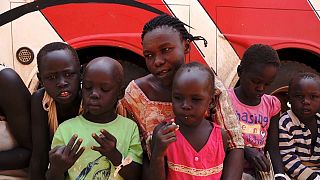 The number of South Sudanese refugees in neighbouring countries passed the 1 million mark in September. Euronews' Monica Pinna went to one of the busiest border crossings at Elegu, in Uganda, that registered peaks of 4,000 arrivals per day in July. The first stop for refugees is the collection centre, run by UNHCR and the Ugandan Government. Here the South Sudanese are registered, given basic assistance and then sent to transit centres. They are then assigned to settlements.
We talked to one of the newly arrived refugees, Agnès Tabu. She came with two children, but lost one 7-year-old boy and another 9-year-old child. This is what she told us about her journey to Uganda: "The war came to our village a month ago. My sister and I and our children fled to the bush. I don't know whether my husband is dead or alive. His phone isn't working. We have been without much food or water for a month, traveling to Juba and then here".